Allow us to introduce ourselves
Our story
The story of &Light
&Light is the leading Nordic retailer of design lighting and with our primary focus on lamps we have created a unique platform in lighting related contents. Since 2007, Copenhagen-based AndLight has been catering to and guiding people in the search for designer lamps for their home. This has been done partly via our centrally located showroom in Copenhagen, AndLight's localised web-shops in Sweden, Norway, and Germany, but also via our English international site AndLight.co.uk.
New adventures – new site

In connection with our recent 10 year jubilee and name change we're launching our new English site AndLight.co.uk. With our English expansion it's now possible to offer designer lighting to customers across Europe. With the launch of AndLight.co.uk we now ship a continually increasing selection of amazing design lamps to the whole of Europe.

Celebrating our 10 year jubilee with a name change

Over the course of the last 10 years LuksusLamper has gone from being one of the first online retailers solely dealing in designer lighting to being one of Scandinavia's largest retailers, with four local sites and one of the biggest lighting showrooms in Copenhagen. In order to further this progress and create synergy across markets we have decided to change our name to AndLight.

With our new name we embark on an exciting new journey that we are looking very much forward to. We welcome you to our new sites: AnLight.dk, AndLight.se, AndLight.no, and AndLight.co.uk.

Hello Germany

Over time, we here at LuksusLamper would like to offer to the whole of Europe what we up until now have offered our Scandinavian costumers only. Thus the expansion to our southern neighbour, Germany, was an idle and important part of this strategy. And we have already delivered lamps to many design-enthused German costumers since the launch of our localized Germen site in April 2017.

New surroundings

As a natural part of LuksusLamper's development we outgrew our current office, showroom, and warehouse in the autumn of 2016. A new future-proof location closer to the centre of Copenhagen had already been bought and made ready for occupancy. The new and larger facilities are part of the foundation allowing us here at LuksusLamper to continue the thrilling development – both nationally and internationally.

AndLight goes CO2 neutral

The increasing focus on global warming made us here at AndLight raise the question of how we as an e-shop could contribute in reducing the emission of greenhouse gases. Our question was answered with help from the company, CO2 Neutral Website. They are working constructively towards making e-shopping CO2 neutral.

AndLight emits CO2 in two ways; Primarily, we need a certain amount of server capacity to host our website. Secondly, our customers access our website on their computers, phones, or tablets, which naturally consumes current.

Thanks to our new collaboration, we can participate in CO2-reducing projects, which are certified by Gold Standard – a certification established by WWF. With help from CO2 Neutral Website, we can proudly call AndLight CO2 neutral and contribute in the fight against global warming.

AndLight awarded the Gazelle price second year in a row

We are very proud to announce, that AndLight has been awarded the Gazelle Price for the second year in a row! AndLight has thus joined an exclusive club of companies that have achieved being awarded the Gazelle Price twice. The Danish business daily, Børsen, informs that since 1995, 14.610 companies has been awarded the Gazelle Price, but out of these, 60% has been a single case and 20% has managed to be awarded two times. Therefore, we are incredibly proud of our hard work and will work even harder in the future to achieve likely results.

Awarded the Gazelle price 2015

What will the future bring?

8 years has gone by and we've reached 2015. AndLight is represented in three countries and has just launched a re-design of our webdesign which we are very proud to present. We have been looking forward to launching the new design of the website, because we didn't feel that the old design lived up to our requirements of what to offer our customers. Therefore, this re-design will make it even easier to shop online for our customers. This design is a step on the way towards our never-ending goal of offering the very best circumstances to our customers in every way.

A lot has happened during the past 8 years, but we have absolutely no plans of resting on our laurels. We've got many plans coming up; new and exciting products lined up, we're expanding our team of employees and last but not least, we hope to begin even more international journeys. Where to, we don't know, but all options are open.

The future is looking bright, and we are very excited to present news to you in the future.

We support The Childhood Cancer Foundation

Awarded the Gazelle price 2014

A New Journey Abroad

It took quite some time to get a hold of the new and amazing surroundings. We organized and decorated our stunning showroom and the big stock and around spring 2012, after a very busy Christmas, we were finally on top of the long, but instructive process. We finally had time to focus on optimizing our customer service and make sure that the level of satisfaction of our customers maintained top level. The customer has always been and will always be what's most important to us, which is why we always try to do our best.

Through the summer and autumn, we spent a lot of time preparing procedures and optimizing the website to make sure that we followed along the increased competitive pressures. By the end of 2013, we decided to begin a new journey abroad. We investigated our possibilities and quickly agreed that an obvious possibility would be our neighbors to the east: Sweden. We hired a competent employee with both Danish and Swedish language skills to establish our way into the Swedish market. Consequently, we launched our Swedish website, AndLight.se on January 1, 2013.

We found ourselves in the situation of AndLight being represented in Denmark, Norway and recently Sweden. The Swedish market turned out to be a bit more complicated to break into than expected, so we ran into a few difficulties in the beginning. Not only is Sweden a big country, but so is the competition and we needed to locate the taste and style of the Swedes. Through time, we were able to adapt to these circumstances and we look forward to seeing an exciting development in the Swedish lamp market.

We support The Childhood Cancer Foundation

We're expanding yet again..

Shortly after our entry in Norway, we had to realize that our growth had made it necessary to look for another location. Our location on Amagerbrogade wasn't sufficient any longer, so we moved to Strandlodsvej in Amager on the first day of autumn in 2011.

Especially the expansion of our selection (in demand from our customers) trickered the moving. In that period we welcomed Astro, Baltensweiler, Design House Stockholm, Dreizehngrad, Fabbian, Jeremy Cole, Lumen Center Italia, Lumini, Normann Copenhagen, and Trizo 21 to our selection of manufactures.

This gave us the possibility of a showroom of 200 square metres to show our selection of beautiful, exclusive, and unique designer lamps. We no longer had to worry about lack of space, but could now put our focus on keeping track of our stock, decorating our new showroom, and mounting lamps.

We're taking Norway!

The goal of entering international markets became a reality after 1.5 years of constant growth.


The first new challenge was to enter the Norwegian market. On 1 August 2011 we launched AndLight.co.uk – the Norwegian sister site to our Danish site, AndLight.co.uk.

Even before we launched AndLight.co.uk we had experienced growing interest from Norwegian customers and had several orders from Norwegian customers. Therefore, we felt like we could offer even better customer service by launching a Norwegian site. It was a very interesting and challenging process, but most importantly, we got a new employee with competences within the Danish and Norwegian language.

The result of selling to two countries made many procedures different depending on whether we were handling a Danish or Norwegian customer. It taught us many things, and made us considerate of the many differences between two relatively alike countries. This prepared us for future international possibilities.

Showroom and new brands

With the continuous development and the demand for a possibility of seeing the lamps in real life, we opened our first showroom on Amagerbrogade – an iconic Copenhagen street. The showroom was established so our customers could find inspiration and see the lamps before purchasing them online - and we could provide guidance.

At that time, we had welcomed Artek, Dyberg-Larsen Practicals, Marc Pascal, Lightyears, Lampe Gras, Marset, Muuto, David Trubridge, Paulmann, Svalen, NEW WORKS, Nikolaj Bo, and Zoolight to our selection of lamps.

As part of the developing process, we wanted to set up a better shopping experience for our customers, and therefore we launched an entire new design for our website. Our goal was to make the site more user-friendly and reduce problems that could cause irritation for our customers.

We received great feedback. This gradual development made it possible for us to think about a new journey; the journey towards international markets. We could see that our goal of entering new markets would become a possibility very soon.

The history behind AndLight

AndLight.co.uk (our previous Danish name for AndLight.co.uk) saw the light on 31 January, 2007 for the first time. At that time, we were only three employees all working towards the same goal – offering beautiful designer lamps in excellent quality, but at affordable prices.

At that time, our selection consisted of Louis Poulsen & PH, Verner Panton, Foscarini, Tom Dixon, Luceplan, Flos, Yamagiwa, Artemide, Design By Us, Bestlite, FontanaArte, Cph Lighting, and Gubi. We only had our website as sale portal, so the website was extremely important for our sale.

The work behind running a web shop wasn't as easy as it may sound. New products needed to be added, described, marketed, the products had to be ordered, packed, and sent out, so they could be delivered to our customers as quickly as possible. It was an enormous amount of work, and it took a lot of time and energy. But it showed us that we had a really good thing going, which gave us energy to continue the hard work.
Our Concept
We aspire to be the best at what we do
At AndLight we sell designer lamps in high quality, but to the best possible prices and with quick delivery straight to your home. Our selection of lamps holds over 60 brands, all quality checked, to make sure we vouch for all of our manufactures' lamps. Therefore, our selection is based on lamps of the highest quality. We wanted to create a unified experience, when purchasing a designer lamp. We figured that a unified experience would consist of several things; lamps in beautiful design and great quality, that needs to be accessible to great prices, where quick delivery, guidance, and eligible advice are part of the buying experience.
Creating the best premises for you
Lamps will always be a central part in all of our lives. They are very important to the feeling we get in our home, at work, or wherever we find ourselves. At AndLight we put an honour in creating the best premises for finding a lamp that will bring that great feeling we all need. We want to make sure you get the very best experience when finding the perfect lamp for your style, need, and home.
We take good care of our customers, and we're always ready to guide and give advice. We have the best possible team, educated to help you will all your questions on the phone, e-mail, or in person.
Our overall goal
Our goal is to become market leaders within online sales of lighting. We are definitely on our way towards reaching our goal, but we'll only make it if we keep focusing on expanding our collection with even more talented and great manufactures, improving our customer service, and working towards making it even more simple to shop at AndLight.co.uk.
Our rate of growth keeps increasing due to hard work, an incredible constellation, where people back each other up, and a steady concept that has 100% focus on the customer. Furthermore, we stay tuned on the technological advances.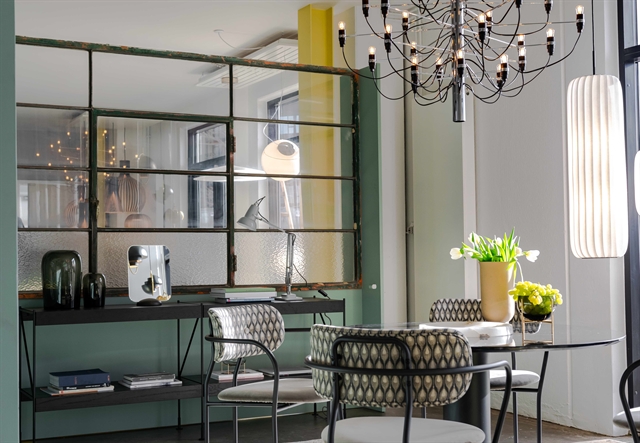 Why shop with us?
Why shop at AndLight?
We hope to bring you the best possible experience when purchasing a designer lamp – and always to a reasonable price. AndLight is one of Denmark's biggest online shops in sales of lighting, and you can safely order your lamp without worrying about 1) not receiving your lamp, 2) the lamp is a replica, 3) paying an unreasonable price.
Best prices on the market
We put great focus on offering the best prices to our customers. If you find a product cheaper somewhere else, we will most likely be able to match the price, or give you an even better offer. You just need to inform us where you've seen the product, preferably with a link. We have a huge warehouse filled with more designer lamps than many of our competing webshops, which means that we'll probably be able to deliver to you faster than others would. AndLight offers you a unique combination of great prices and quick delivery, and we offer free shipping on all orders. Always.
Request offers
Main focus on the customer
We always put our main focus on the customer, and we want to make sure that all our customers get a nice experience when shopping at AndLight. We make sure this happens thanks to our competent employees always ready to assist and help you, whether it's on the phone, online chat or e-mail. We try to carry our customers through the process of choosing and purchasing a designer lamp and making it as easy and simple as possible. Your order is placed through a well-designed site and handled quickly and with efficiency. Remember that we're always ready to help.
Always items in stock
We value quick delivery highly. The only way we can secure a fast delivery is to have many of our items in stock. Like that, we can send the lamps as soon as the order is processed and we've found the lamp in our warehouse. We always try to have as many products of our large selection of lamps in stock, so our customers' waiting time will be as short as possible. We have products in stock from almost all our 60+ manufactures, and you can always check how many we have in stock, or the estimated delivery time on every single product.
If you fall in love with a lamps that is not in stock, we'll order it home right after you've placed your order. Unfortunantly, there's variable delivery time from brand to brand, and product to product. But we'll always inform you as well as we can, so delivery time and stock count is always informed on the specific product, so no one gets annoyed over long delivery time. We can only inform indicative delivery times as we are extremely dependent on our brands and freight company stay true to their informed delivery times.

Buy lamps without worrying
As online shopping increases so does the change of hacker attacks. Therefore, we are very careful of our customers and their security when shopping at AndLight.
We offer a range of different payment methods: VISA, MasterCard, Visa Electron, Maestro, JCB, American Express or bank transfer. In our showroom/warehouse we accept VISA/Dankort. When shopping at AndLight you can safely use your payment card as we use an encrypted SSL-connection to secure no one is "watching" when you fill out your payment information or other data online. We do not see your card information and will never see them.
Your security
From a legal point of view, you are better off paying by card online, than many other means of payments. When paying with card, you can get your money back.
If the product is not delivered
If you deny receiving the product due to your right of withdrawal
If money has been drawn from your account without your permission
If you have any questions to the security of AndLight, please call us on +45 44 44 62 44 or write us an e-mail at info@AndLight.co.uk.
We support
For us, life isn't all about business, but so much more. It is about helping, raising awareness, and supporting organizations and purposes of making changes for the better.
That is why we support the Children's Brain Cancer Foundation and their work with research within brain cancer seen at children. The goal is, by supporting Children's Brain Cancer Foundation and their research, to cure all children having brain cancer. Today, cancer is the biggest sickness related cause of death for children over 1 year. Added to this, children have the highest death rate of brain cancer.
It is important to emphasize that this is a shared case, where it is very important that we all gather together and support the Children's Brain Cancer Foundation that works passionately towards "establishing a research environment in Denmark within children's brain cancer in the hope of finding a curative treatment for all children with cancer".
As part of AndLight support to Children's Brain Cancer Foundation, you are able to find special offers if you join the foundation. You can become a part of Children's Brain Cancer Foundation here.
Our showroom
Take a virtual 3D tour of our showroom
Using the latest technology, we can now offer you a virtual 3D tour of our creative showroom in Copenhagen. This means that you can, at any time and place, take an inspirational tour of our showroom and pick out your favourites.

Take a tour of the space and discover the best of designer lighting. If you're in doubt about some of the lamps and how to decorate them in your home, please feel free to contact us.

Step inside our new showroom and experience a unique and creative scape that has managed to create a groundbreaking environment for the world's best designer lamps.
An old welding factory transformed into a high-end showroom
The showroom is located in central Copenhagen, Denmark. Specifically, in the old welding factories used by H.C. Ørstedværket. The old industrial building creates a unique contrast to the designer lamps shown in the showroom, while still allowing all guests to get an idea of how the lamps can be used at home. In the 500 sqm. Industrial environment, Interior and room designer Josefine Hedemann have managed to curate a beautiful exhibition of designer lighting that gives inspiration to every home.

We strive to give every design interested person a unique experience as well as inspiration, through the creative space of our new showroom. It makes it possible for all guests to experience and feel the lamps, before buying them for their home. The showroom allows us to create a bridge between online and offline and thus the best customer experience possible for designer lighting.

We are experts within designer lamps and, therefore, we always offer consultations and good advice for how to implement light into every home. Everyone is welcome to stop by our showroom for a chat and a cup of coffee.

AndLight Showroom
Tømmergravsgade 4B
2450 Copenhagen