New Works Material
NEW WORKS are very proud to launch their new products of the Material lamp series. The Material pendant series has been their most popular lamp to date ever since they first introduced it. Everything was created in collaboration with many international groups of designers and artists that share ther interests and passion for real materials and sculptural shapes. Now, with great joy, they introduce the Material Table Lamps, the Material Wall Lights and The Black Sheep Edition. With all these choices and options within the Material lamp series, it is now possible to decorate any home with all the pretty, natural and quality-safe materials that this unique lamp series contributes with.
See the rest of
New Works lamp assortment here
.
Read more about New Works Material
The popular New Works Material lamp
The lamps are available in the various materials and colours; natural cork, mixed cork, natural oak, smoked oak, light grey concrete, dark grey concrete, black marble, white marble, clay-coloured, yellow steel and their unique The Black Sheep which is a unique product in their unique lamp series.

The lamps all use a E14 bulb with max 11W or LED max 4W. The lamp series Material is available as a pendant, table lamp and wall light that will decorate your home with their unique material.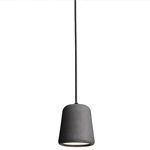 The designer behind Material from New Works
At New Works they have collaborated with many international designers. This duo believes that good, original design depends not on the price but on the skills of the creator. With that attitude, the duo is made for each other: the combination of Nørgaard's reflective way of thinking and Kechayas' drive has helped them create a name for themselves on the Danish design stage.

Now, in collaboration with New Works, they are proud to present the Material lamp series. After the massive success of the Material pendant series, they have expanded their design and idea so that all corners of a room can have Material lighting.

The story behind New Works
The idea of the minimalistic lamp series has always been to bring out the natural materials. The New Works lamp series has always been one of their small niche ideas, since day one. From the warm cork and the rich terracotta to the rustic cement or marble shade, the Material lamp series offers several possibilities for every room.

There has always been a strong support for the Material project which has resulted in the launch of the Material continuation and with great joy, New Works and Nørgaard & Kechayas were impressed to see how well the Material series was received.